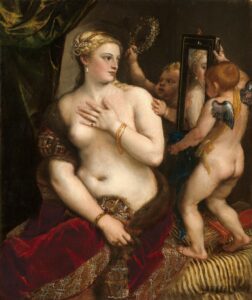 My first audiovisual offering will be my reading of Venus in Furs by Leopold von Sacher-Masoch. Written in 1870, it is where we get the term "masochist", from von Sacher-Masoch's name. Beyond just being a classic of fetish literature, it is an excellent work of literature in its own right. It is inspired by the author's own life, and is one of the best depictions of BDSM I have ever come across, in any media. I have lots to say about the book, so look for future blog posts on it!
The image above is a painting by Titian that appears in the book as inspiration for the main character, Severin.
I'm currently breaking up the text into chunks of about 10 minutes reading duration. This way, listeners will be able to listen to the whole book, or jump to their favourite parts. I will be selling this audio through the various online stores, see AudioVisual page for details.